Zest-itⓇ
Airbrush Cleaner (for Acrylic and water based media)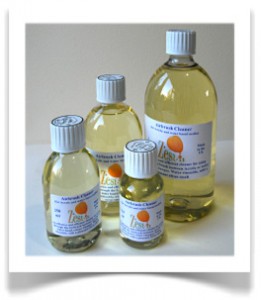 Use Zest-it Airbrush Cleaner to clean your Airbrush between colour changes while spraying.
Add a small amount of Zest-it Airbrush Cleaner to your cup or bottle,
spray through your airbrush, then flush with water before adding new colour.
Wear Nitrile gloves if skin is sensitive and use eye protection if splashes are likely.
Do not spray towards body or face.
Suitable for Acrylic based inks and paints.

Available sizes - 125 ml up to 1 Litre