Zest-itⓇ Blending
Sponge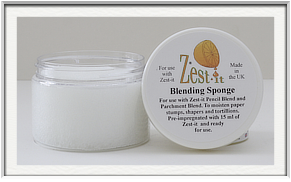 An easy, clean and convenient way of using Zest-it Pencil or Parchment Blend to moisten brushes, paper stumps, tortillions and shapers. Gives control over the amount of Zest-it used for blending.

Use for blending coloured pencils, pastel, oil pastels and wax for Parchment and other work on vellum and paper. Leaves no stain or residue on the work.

The close grained, long lasting white sponge is pre-impregnated with 15 ml of Zest-it and ready for use. Re-moisten when necessary with 5 ml of Zest-it Pencil or Parchment Blend.

Available as 150 gm pot, sponge filled and pre-impregnated with 15ml of Zest-it Pencil Blend.
You can now buy from direct at our
Etsy Shop