Zest-itⓇ Solvent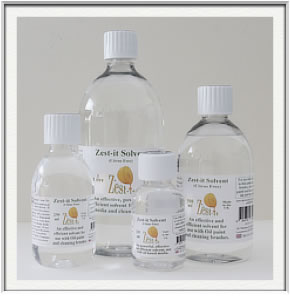 The New Zest-it Solvent is a much safer solvent for oil painter than Gum Turpentine and makes an excellent replacement.
Ideal for those oil painters who wish a little more 'bite' to their solvent, prefer a non-citrus smell and a slightly stronger action than the original Zest-it Oil Paint Dilutant and Brush Cleaner.
Use with Linseed Oil, other Oils and wax as a medium, with Gum Damar and Mastic as a solvent for making varnish and as a diluent for thinning paint, also for cleaning brushes and equipment.
Also works with oil based inks, transfers and wax products. Removes oil paint, oil colour, oil bars, oil pastels and other oil based products from your brushes, palette, painting knives and rollers.
A solvent that has considerable active strength, leaves no residue, it is re-usable, saves on waste and is economical in use.
After use decant and re-use – saves wastage, makes it economical.
Available sizes – 125 ml up to 2.5 Litre with larger sizes available for Schools of Art, Colleges and Universities.
If you wish to purchase Zest-it Solvent from one of our retailers direct through Amazon please click on the images below..
You can buy Zest-it Citrus Free Solvent direct from us in
our Etsy Shop